About the company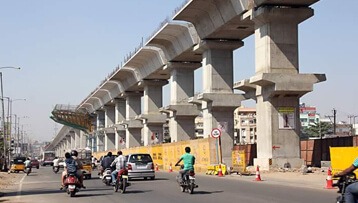 PT Stress India Pvt. Ltd., established in 2009 in India is engaged in the business of pre-stressing of different structures such as segmental construction, continuous span, balance cantilever etc. using various types of anchorages ranging from 1T13 to 37T13 and for 12.7 mm LRPC strands. The system developed at the manufacturing set ups are in line with international standards thereby ensuring quality products and services at all projects. The company is technically supported by PT Stress India.
Understanding the uniqueness of the project and the client, the services offered by PT Stress India are meeting the specific needs of the client during the execution starting from the design till completion of the project.
The company has adapted post-tensioning principles to civil structures such as LNG tanks, reservoirs, plants, tunnels, off-shore platforms, concrete floating barges dams and stay cables. RK PT STRESSING has participated in the construction of many stay cable bridges.
PT Stress India single strand installation system for stay cables offers high fatigue resistance, increased corrosion protection, versatility and ability to replace the strand by strand. In addition to post-tensioning and stay cables, PT Stress India engages in pre-casting and segmental bridge erection launching gantries, formwork systems, repair works, rock and soil anchors, bearings, retained earth walls, heavy lifting, monitoring, geo-techniques & deep foundations.
The mission of PT Stress India is to satisfy the ever increasing demands in terms of quality, durability and structural integrity in all its projects, with the constant aim of meeting client expectations to a greater degree.
PT Stress India's external pre-stressing system not only addresses cost considerations but is also highly effective. It was fundamental in responding to the concerns of structural designers using prefabricated elements by giving them the ability to manage the pre-stressing throughout a structure's life. Development of external pre-stressing allowed for greater control of forces and the adjustment or adaptation of the system to accommodate new service loads. Furthermore, all or part of a cable could be replaced at any time should any need arise.
Pre-stressed Rock Anchors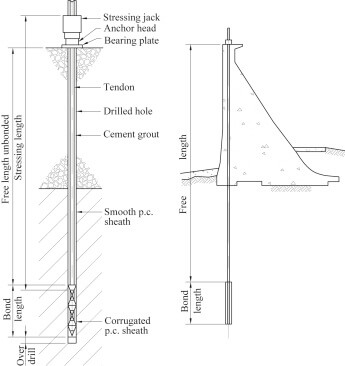 Rock Anchoring is an effective method, which can be used for resisting water thrust in high-rise buildings and passive earth pressure acting on diaphragm and retaining walls. Design of rock anchor is done considering resisting force, bond stress value, etc.
Typical rock anchors consists of H.T. Strands of required capacity, packer to separate fixed and free length, protective shoe, spacers, thrust plate, anchorage etc.
Rock anchors for raft foundation of nuclear containment structure and buildings have been used for several prestigious projects.
PT Stress India have developed special purpose jacks and anchoring mechanism, which can be used for recoupment of losses in pre-stress force during the life of the anchor.
Capabilities and dynamics to handle pre-stressing work of all types
Experienced staff & competent Engineers.
Established manufacturing & testing facility with modern machines.
Enough stock of Anchorages, Jacks, Power packs & other Accessories.
Wide range of pre-stressing system & established quality systems.
---
Repairs & Rehabilitation of Structures
Tailor made repair scheme is made for rehabilitation of structure. Various techniques like using external pre-stressing, jacketing, epoxy/cement grouting, polymer concrete, etc. are provided.